FORATOM has released a position paper in which it highlights the importance of the long-term operation (LTO) of the existing nuclear fleet.
According to the paper, keeping these power plants online will help the EU to achieve its emission reduction targets at an affordable cost.
"International experts continue to recognise that the power sector simply cannot be fully decarbonised without nuclear", states Yves Desbazeille, FORATOM Director General. "Furthermore, a range of studies have confirmed that the long-term operation of the existing nuclear fleet is the cheapest source of electricity".
According to the position paper, the LTO of the existing fleet will
Help achieve the interim, 2030 targets
Reduce the EU's energy import dependency
Support the integration of a higher share of renewables
Based on a recent assessment by Compass Lexecon, without LTO, power sector emissions will increase beyond 2025. Even if the 2030 targets are achieved under both scenarios proposed by this assessment, in a low nuclear scenario the impact on the overall carbon budget will be significant given that every tonne of CO2 emitted contributes to global warming.
CO2 emissions outlook for the power sector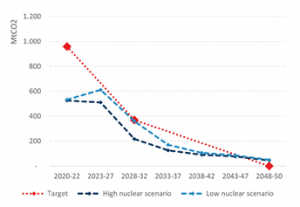 At the same time, the paper highlights a series of challenges. These include regulatory aspects (such as the application of the Espoo and Aarhus Conventions to lifetime extensions), industrial challenges (ie the contribution of innovation and technological breakthroughs) and national, regional and local taxes and levies which apply only to nuclear.
In order to help combat some of these challenges, FORATOM puts forward the following policy recommendations:
Ensure a coherent, consistent and stable EU policy framework
Agree an ambitious net-zero CO2 emissions target for the EU in 2050, in line with the European Commis­sion's long-term vision for a climate neutral economy
Develop and implement a strong industrial strategy to ensure that Europe maintains its technological leadership.
Support human competences
Click here to download the position paper in full
About us: The European Atomic Forum (FORATOM) is the Brussels-based trade association for the nuclear energy industry in Europe. The membership of FORATOM is made up of 15 national nuclear associations and through these associations, FORATOM represents nearly 3,000 European companies working in the industry and supporting around 1,100,000 jobs.
For more information, please contact Jessica Johnson: [email protected].